I have several packages for Amahi under creation. Soon the following will be found for alpha testing. Below are short presentations in English. I expect the packages for these to be ready within a week or so.
If you still do not have an Amahi spinning at home, set up a fort! http://www.amahi.org
Syncrify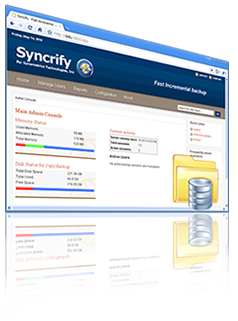 Syncrify is fast, incremental, and cloud-ready backup that implements the rsync protocol over HTTP.
Key Features
Backup over HTTP – Backup and restores are done using the HTTP protocol.
Uses Rsync – Files are copied using Rsync algorithm.
Multi-platform – Syncrify can be installed on any operating system including MS Windows, Linux, Mac OSX and UNIX
Backup over the Internet – Backup files from any computer across the Internet
Cloud Ready – Power your private cloud using Syncrify. If you are an enterprise looking for a comprehensive, cost effective data protection platform, consider Syncrify to create a private cloud.
Free – Syncrify is absolutely free for personal use
How does it work?
You install Syncrify Server on any machine of your choice with plenty of hard-drive space. This machine can be located anywhere on the Internet.
Using your web-browser you, the administrator, create multiple user accounts.
You then install Syncrify Client on a machine that you want to backup. Run this client, decide the files you want to backup and schedule as task to run it.
Individual users can connect to the Syncrify Server using their web browser to view backed files as well as download/restore any file when they need it.
Tvheadend
Tvheadend is a TV streaming server for Linux supporting DVB-S, DVB-S2, DVB-C, DVB-T, ATSC, IPTV, and Analog video (V4L) as input sources.
It also comes with a powerful and easy to use web interface both used for configuration and day-to-day operations, such as searching the EPG and scheduling recordings.
Even so, the most notable feature of Tvheadend is how easy it is to set up: Install it, navigate to the web user interface, drill into the TV adapters tab, select your current location and Tvheadend will start scanning channels and present them to you in just a few minutes